Passage to India in Oman's route to World T20 success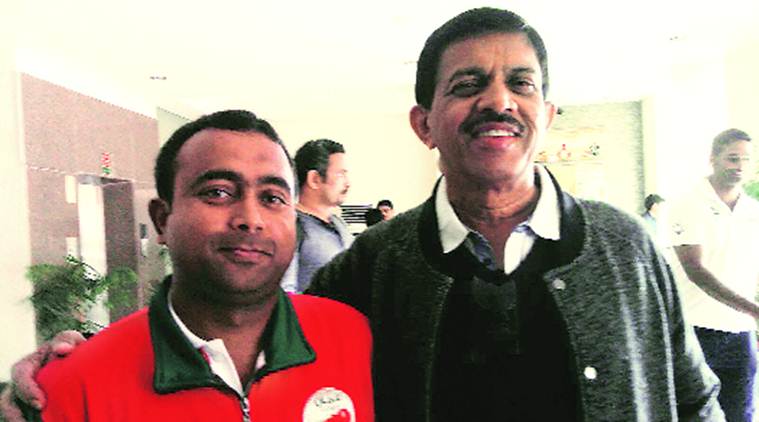 KK Mohandas, owner of the Passage to India restaurant in Muscat, with Aamer Ali. Ali was hired by Mohandas as an apprentice to the manager 17 years ago.
As Oman, chasing Ireland's 153, lost five wickets in a heap, their motley group of supporters, mostly friends and relatives of the India-origin players in the side, grew restless. There was a juncture in the match when World Cup debutants Oman held realistic hopes of upstaging the most accomplished of the associate brethren.
The sight of a man who rushed onto the middle – a middle-aged spectacled lower-order batsman – wouldn't have revived their hopes either. But one spectator in the gallery, an elderly gentleman, furiously waving the Oman flag with both arms, shouted in broken Hindi with a thick Malayalam accident: "Ali hain na, match bilkul jeeth lenga. Dekhlo lo aap log."
Few then would have taken him seriously. After all, what can a number seven batsman, on his debut, not even remotely resembling a proper batsman, do where better batsmen had failed. Aamer Ali reposed his backer's faith, spun the so-far biggest upset of the World T20 with a thrilling smash-and-grab cameo. When Oman completed the heist, a few of their supporters went up and hugged him. That gentleman, KK Mohandas, a restaurant owner from Kochi, accepted it all with a warm smile.
Then Mohandas' trust in Ali was not what you call a gut feeling or an instinct. Neither is he versed in the dark arts of soothsaying. It was just trust naturally forged over years. In fact, Mohandas is Ali's employer, and employer for the last 17 years. "I have known him for the last 17 years to know that you can trust him to win the match. I even predicted from which ball he would go berserk. He is our club's flag-bearer and has never let us down in his career. So I had complete faith in his abilities," says Mohandas.
He remembers the first day he came for work in his hotel, Passage to India in Muscat. "It was a friend of mine who brought him here. He was very reserved and quiet. The first thing I asked him was how good a cricketer he is. He smiled and told me that he has played a couple of first-class matches for Karachi. I gave him the job, as an apprentice to the manager. But I made him permanent only after I saw him play during a club match," recounts Mohandas, who came to Oman 36 years ago for a better livelihood, like many unemployed Malayalees during the Gulf boom days.
This story is the same two other players —Bilal Khan and Aamir Kaleem — who work in different branches of Passage to India have to narrate.
"As much as the hotel, I love my club. I want it to do really well and so wherever I go I keep an eye on talented cricketers. First I give them job, for you need work permit to live here, and then test their cricket skills and then make them permanent," explains Mohandas.
"So in case if you find any good cricketer, who is not getting any opportunity, you can pass on the message to me. If he's interested, he can come on board," he adds.
That's how Ali also ended up in Muscat. Like most kids from Malir, a Karachi suburb, he grew up playing cricket — tape ball cricket, he insists — in the streets. He caught the eye of Malir Gymkhana skipper, also former Pakistani skipper, Rashid Latif, and the latter immediately took him under his wings. "He taught me about the technical aspects of the game and how to scientifically play the game. At the same time, he asked me to develop my own style. It was at that time when Basit Ali was doing well, and I modelled my batting on him. Salim Malik was another favourite player," he says excitedly.
Now you know the genesis of some of those swings across the wicket and that late cut between the 'keeper and the second slip, the latter which had the street-smartness of Karachi brand of cricket stamped on it. "You know the streets are crammed and the gaps are few. So you have to be really smart to pick the gaps," he points out.
But district and club cricket didn't take him where wanted to reach.
"I played a few matches for Karachi U-19, with Shahid Afridi, and even played a couple of first-class matches. But after that I didn't get any chance. I was getting older and my family was expecting me to bring in a steady income. So I decided to leave cricket and find a job. Then a friend of mine told me about this place in Oman, and I didn't have any second thoughts," he says.
This was like killing two birds with one stone. This is more or less the same story most of his fellow club-cricketers, which also included former Pakistan wicket-keeper Zulqarnain Haider and has produced a dozen players in the past. And it's not like these players automatically land into the club.
Mohandas does a lot of background research once someone tips him of a player. "I'll check google, then cross-check with some other friends, and only if I'm convinced about his talent as well as discipline will I take him into the club ," say Mohandas, who was a midfielder for Calicut University in the mid 70s. "First it was just an interest. I started watching cricket after my son started. But now it's a passion," he adds.
And it's a passion that has served Oman cricket well. And kept introducing to the world cricketers like Ali.

The Indian ExpressSports – The Indian Express
Share: